UN SDGs
13 Climate Action
12 Responsible Consumption and Production
The World's Poorest President Speaks Out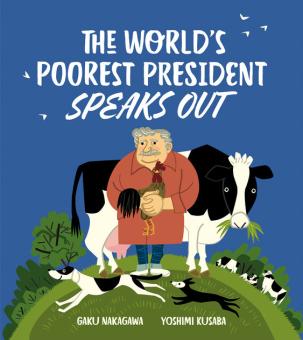 Author:
Yoshimi Kusaba


Translator:

Andrew Wong


Illustrator:

Gaku Nakagawa

Language/s: English, Japanese
Country Connection: Japan
Reader Age: Older
Genre: nonfiction

"A poor person is not someone who has little, but one who needs infinitely more, and more, and more." Thus spoke José Mujica, then the President of Uruguay, before the United Nations in 2012. Paraphrasing the wisdom of the great thinker Seneca, he asked the world to question the dogma of consumption that has driven us into environmental and economic crisis. Often referred to as the worlds "poorest" president, in part because of his practice of donating 90% of his $12,000 monthly salary to charity, José Mujica lived his words and proved that one need not have money to be rich. In The World's Poorest President Speaks Out, José Mujica's famous speech comes to life as he asks us to remember our neighbors, our children, and the Earth.