UN SDGs
5 Gender Equality
17 Partnership for the Goals
Girls on Wheels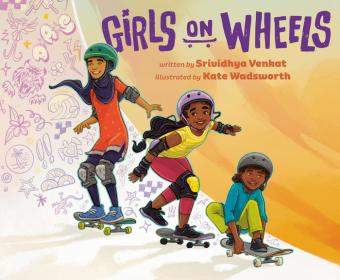 Author:
Srividhya Venkat


Illustrator:

Kate Wadsworth

Language/s: English
Country Connection: India
Reader Age: Early, Younger
Genre: Fiction

Inspired by the skateboarding revolution in India, Girls on Wheels follows three friends who support one another through the ups and downs of learning to skateboard.

Anila is on her way to her favorite place: the skate park. She longs to glide on her board and feel the thrill of catching air. But when she arrives, the ramp looks like a concrete sea monster! Fear creeps in, making her once-broken arm ache. But Sana's smile and Damini's laugh wrap Anila in courage. Her friends remind her that in skateboarding, sometimes you fall—but sometimes you fly!