UN SDGs
15 Life on Land
P.S. What's up with the climate?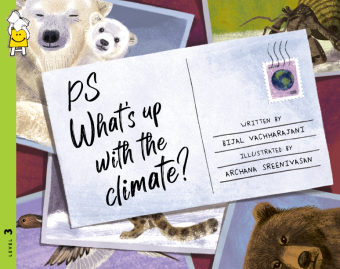 Author:
Bijal Vachharajani


Illustrator:

Archana Sreenivasan

Language/s: English
Country Connection: India
Reader Age: Younger
Genre: Fiction

It's too hot. It's too cold. There's no rain. There's too much rain. There's less snow. There's too much carbon in the atmosphere. Grizzly bears don't know whether to sleep, penguins don't know what to eat. Kangaroos are escaping forest fires, bees are groggy from all the pesticide. In a world overrun by the climate crisis, is it time to panic yet?