UN SDGs
4 Quality Education
6 Clean Water and Sanitation
Burying the Moon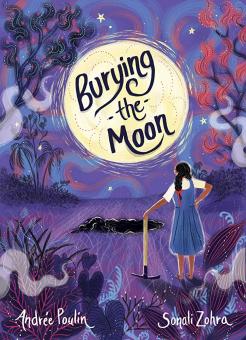 Author:
Andre Poulin


Translator:

Andre Poulin


Illustrator:

Sonali Zohra

Language/s: English
Country Connection: India
Reader Age: Older, Mature
Genre: Fiction

In Latika's village in rural India, there are no toilets. No toilets mean that the women have to wait until night to do their business in a field. There are scorpions and snakes in the field, and germs that make people sick. For the girls in the village, no toilets mean leaving school when they reach puberty.

No one in the village wants to talk about this shameful problem. But Latika has had enough. When a government representative visits their village, she sees her chance to make one of her dreams come true: the construction of public toilets, which would be safer for everybody in her village.

This illustrated novel in verse shines a light on how a lack of access to sanitation facilities affects girls and women in many parts of the world.